Online Games
Traditional tower defense games concern themselves with the challenge of protecting a kingdom, castle, or other area with a series of different towers with a selection of abilities, with upgrades often being available along the way to improve your chances against increasingly powerful enemies. Crush the Castle is a game that is effectively the opposite of this tower defense tradition, since it involves the user-controlled destruction of a series of castle structures on a very hands-on basis. In this manner, the game is more like tower offense, putting you in control of a trebuchet and requiring you to get to grips with the unique physics involved in the firing of it.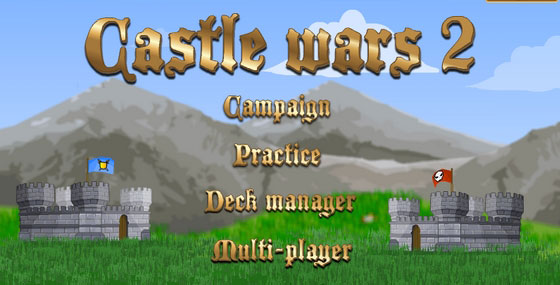 The long awaited sequel to Castle Wars. Castle wars 2 is a turn-based strategic card game where your goal is to crush your enemy's castle or be the first to build a 100 storey castle. To put it simple it's either crush or be crushed! The game play works like this. You use cards to build, defend, attack or gain resources. Each card/action that you want to do costs resources, and so to win you have to choose your actions with care.
Mobile Games
While Words With Friends seems to have the multiplayer tile-based word-puzzle genre tied up, the predominantly single-player tile-based word-spelling game market is still very much up for grabs. Spellwood may, on the surface, sound like any other word game where you use tiles to spell words for points, but you would be missing out on some incredibly addictive action if you were to swerve this game before trying it. This review looks at what makes this game so incredibly addictive and unique, with features like turn-based battling, equipment upgrades, and an adventure through a mystical castle in the game's fascinating story mode, you have virtually nothing to lose by reading on.
More Games
Below you can find more castle related games to play for fun online.
Castle Toys
Here you will find an expanding range of castle toys for young kids to play and learn including Wooden Castle Playhouses.