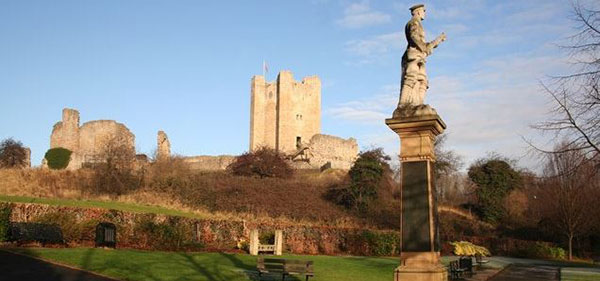 Richard of Conisbrough was born in 1385 and died in 1415 at the tender age of thirty. Richard was executed following a rebellion, known as the Southampton Plot, where King Henry V and his sons were to be murdered by the conspirators. So, who was the Third Earl of Cambridge and what lead him to his early demise?
Illegitimate Son?
Richard was born in Conisbrough Castle and was said to be the result of an illicit affair between his mother Isabel of Castile and John Holland who was half-brother of Richard II. The twelve year gap between Isabel's previous child and Richard only helped fire the rumours regarding his legitimacy siting that relations between Isabel and her husband Edmund of Langley, 1st Duke of York, were obviously strained as no other child had been conceived during these twelve years.
This created suspicion causing people to gossip that Richard was indeed not the second son of the Duke of York. It was well known in the couple's circle of friends and associates that Isabel found her husband a bore meaning that when Richard came along his life was blighted from the outset by rumour and speculation. Richard received no mention in either his fathers will or that of his elder brother making the case for his illegitimacy further solidified.
Isabel Secures Richards Future
Isabel was obviously concerned that her second son should not be entirely ignored after her death therefore she requested that King Richard II, who she named as her heir, grant five hundred marks per year to her youngest son, a request he subsequently honoured. In 1399 the first Lancastrian King, Henry IV came to the throne during which time Richard led a force in 1403 to defend Hertfordshire against a Welsh rebellion and was honoured for his leadership by Henry who granted Richard a knighthood.
Richard was knighted on the 26th June 1406 by Henry IV, while Henry must have put much trust in Richard as he chose him to escort his daughter Philippa to Denmark where she was to be married to Eric of Denmark. Richard escorted Philippa, witnessed the wedding then returned to England.
Richard Marries
In 1408 Richard married Anne Mortimer who was the daughter of the 4th Earl of March who was the presumed heir to King Richard II. Richard and Anne had three children together namely Isabel of York, Henry of York who died in infancy and Richard of York.
Isabel of York
Isabel was born in 1409 and died in 1484 therefore lived a very long life for the times. Her first husband was Sir Thomas Grey of Northumberland with whom she had one child. Henry Bourchier 1st Earl of Essex was Isabel's second husband, while this union was very fruitful as she gave birth to seven sons and one daughter namely
William
Henry
Humphrey
John
Thomas
Edward
Fulk
Isabel
Richard of York
Richard 3rd Duke of York was born 21st September 1411 and died 30th December 1460. Richard married twice, firstly to Cecily Neville then Joan Beaufort with whom he had twelve children!
Anne
Henry
Edward
Edmund
Elizabeth
Margaret
William
John
George
Thomas
Richard (III)
Ursula
Richards Final Years
Anne Mortimer, Richards's wife, died on September 21st 1411 shortly after she gave birth to their last child Richard. She was laid to rest in Kings Langley Hertfordshire close to the burial place of her husband's father. Her remains that have since been exhumed and examined showed that Anne was probably around five feet three inches in height and had auburn hair. Richard was married once again to Maud Clifford a divorcee, while on 1st May 1414 he was granted the title of Richard Earl of Cambridge by Henry V.
The Conspiracy
Richard was involved in a conspiracy to depose and murder King Henry and his sons that became known as the Southampton Plot. His co-conspirators were Henry Scrope 3rd Baron of Masham and Sir Thomas Grey, while the plot was to bring Edmund Mortimer, Earl of March to the throne. Ultimately March got cold feet and informed on the three conspirators who were arrested and charged with treason. He also served on the commission that condemned the conspirators to death.
Why Scrope joined the conspiracy isn't totally clear except that it may have had something to do with his uncle Richard Scrope Archbishop of York being executed at the order of Henry IV in 1405. Richard did admit to his part in the plot but wrote to the king begging forgiveness and asking for mercy. This was all to no avail as Richard was beheaded on August 5th 1415 at the tender age of thirty, while his head was stuck on a spike to warn all of the consequences that result when committing an act of treason.
Richards Final Chapter
Richard was buried in Southampton and two months later his brother Edward Duke of York was killed at the Battle of Agincourt. Edward was succeeded by Richards's son Richard Plantagenet who was four years old. Richard of Conisbrough may have met a grisly end after spending years of his life dealing with the fact that he was treated like the illegitimate son but Richard's grandson Edward Duke of York came to the throne as Edward IV in 1461.
When Edward became king he finally had the sentence that had been passed on his grandfather Richard of Conisbrough annulled siting that the verdict was unlawful and irregular.