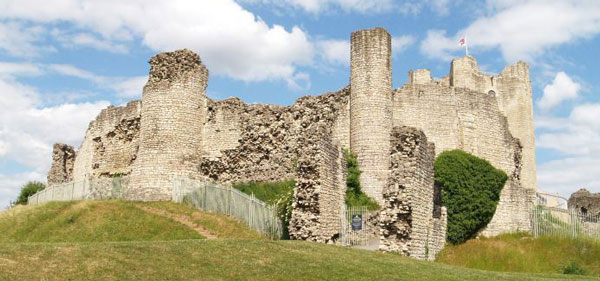 Those of us who love all things historical will certainly enjoy visiting Conisbrough Castle in South Yorkshire. Steeped in history taking a look around this fabulous castle is both educational and a pleasure. Kept under the caring supervision of English Heritage educational visits along with individuals and groups are welcomed at the castle while the castles famous keep has undergone Lottery funded restoration work that is now complete.
Technology
The first thing that will strike you when entering the famous keep is how English Heritage has utilised technology to tell visitors the wonderful story of Conisbrough Castle. The keeps walls have life sized projected characters featured upon them that talk to visitors along with audio visual features and display panels. Visitors will hear all about the life of Hamelin Plantagenet who built the castle and also his wife Isabel. Once visitors have absorbed this information they can move on to explore the keep and castle itself.
Tours
Many of us prefer to tour an historical site alone to absorb the atmosphere as we meander through history, while others prefer to be guided through so they don't miss out on any knowledge regarding the castle. Tours around Conisbrough Castle that are led by experts can be booked via the English Heritage website online or by telephone or post.
Self-led tours are available free for qualifying groups, while castle information can be downloaded prior to your visit. Expert led discovery visits are another alternative, are available for up to thirty students per time and are led by qualified staff who know their stuff!
Conisbrough has a new visitor centre too that brings the history of the castle to life. The visitor centre also offers an activity centre that can also be booked for educational visits. This is a great way for children and young adults to become interested in history. Many of us remember boring history lessons where the teacher stood in front of the class churning out details that went over our heads. This is an opportunity for children to learn through involvement which makes history a joy to learn. Teacher's kits and online educational information is available to download at the website.
Is there a Ghost?
Many people believe that old buildings especially castles such as Conisbrough steeped in history with centuries of fighting behind it must be haunted. There are a couple of stories that bear witness to Conisbrough having a resident ghost or two.
Sightings of a monk dressed in grey have been reported by visitors. The monk wanders among the ruined curtain walls so watch out for him when visiting Conisbrough. Another apparition that of a lady dressed in white has also been spotted on top of the keep. It is said she fell to her death from the top of the keep long ago.
Unexplained footsteps have also been reported in the keep along with strange lights emanating from the chapel section. Many different sightings have been reported over the years with even local television getting involved in reporting the stories. Is Conisbrough Castle haunted? That's for you to decide!
Amenities and Facilities at Conisbrough
Discovery visits available all year round
Family learning activities
Activity sheet for kids
Family Friendly play area where ball games and kites are allowed
Bottle and food warming
3D model of castle in the visitor centre
Staged displays
Gardens
Souvenir and gift shop
Picnic area
Free car park
Opening Times
Opening times during winter months are limited. From 3rd November 2014 to 29th March 2015 Conisbrough Caste is open Saturday and Sunday only from 10am to 6pm. Christmas Eve, Day, Boxing Day, New Year's Eve and Day the castle is closed.
Conisbrough Castle
Castle Hill
Conisbrough
Doncaster
South Yorkshire
DN12 3BU
Tele 01709 863329
Customer Services Tele 0870 333 1181