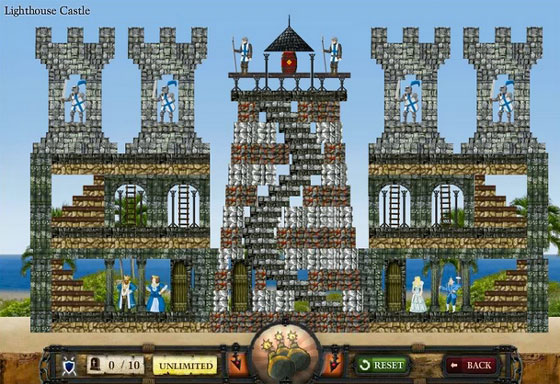 Traditional tower defense games concern themselves with the challenge of building a castle or kingdom and protecting those of different towers with a selection of abilities, with upgrades often being available along the way to improve your chances against increasingly powerful enemies. Crush the Castle games are effectively the opposite of this tower defense tradition, since it involves the user-controlled destruction and laying siege to a series of castle structures on a very hands-on basis. In this manner, the game is more like tower offense, putting you in control of a trebuchet and requiring you to get to grips with the unique physics involved in the firing of it. CTC2 and it's predecessor are some of the most played castle games online and it's easy to see why, try it for yourself...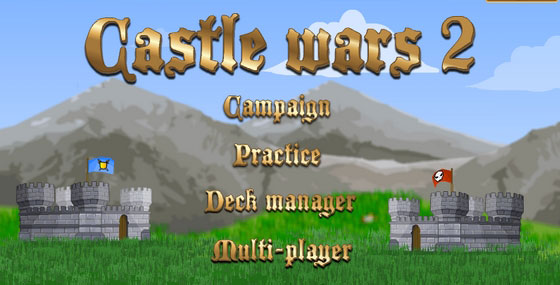 The long awaited sequel to Castle Wars. Castle wars 2 is a turn-based strategic card game where your goal is to crush your enemy's castle or be the first to build a 100 storey castle. To put it simple it's either crush or be crushed! The game play works like this. You use cards to build, defend, attack or gain resources. Each card/action that you want to do costs resources, and so to win you have to choose your actions with care. It's the best "light" game of the series so far, with many still waiting for number 3 to appear.
Sieger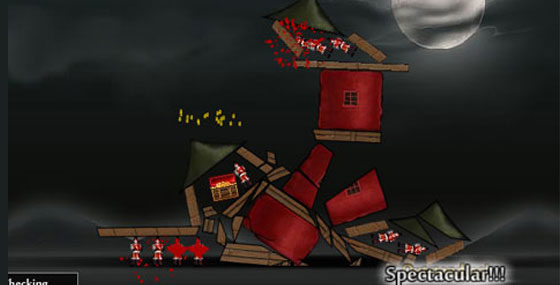 Sieger is a castle smashing game sponsored by Armor Games where the aim is somewhat similiar to crush the castle and crush the castle 2. You need to demolish castles (besiege them) or if you like towers in as little amount of shots as possible, crushing enemies and safe guarding the lives of the hostages.
There are 29 levels in total, 28 regular rounds and one special 'pharoahs treasure round'. The gameplay is more simplistic than that of the crush the castle games and you will find overcoming each level less like pulling teeth, where as in crush the castle you could quite easily spend a whole hourtrying to successfully toss a projectile into a tower (on some of the later levels). In sieger the targetting system is much easier to grasp therefore the aim is not really about just hitting a castle somewhere near a good point, but actually aiming your projectile at exactly the right point.
You have jacks, knights, kings and queens all hiding within the castle walls who must be crushed and the hostages must be spared at all costs or you will fail the round! Gold medals or brilliant victories are quite easily achieved after a few goes of some of the rounds and even the most difficult levels you will find relatively easy, however this doesn't detract from the overall enjoyment of the game.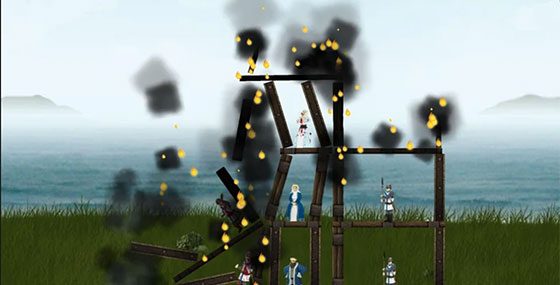 Crush the Castle 1 is a physics-based flash game available from Armor Games alongside Namco, created by Joey Betz. The flash game is free to play online. It focuses on the task of felling castle like towers built by the enemy. Players must use the arsenal provided to them to shoot at, and destroy the castles, thus killing all of its inhabitants in the process. Each tower that players destroy allows them to move onto the next, with a string of enemy castles to obliterate.
The game has 24 levels/castles to defeat. The game centres on a Map Menu, which shows all 24 castles to which the players must destroy. The towers that are set for annihilation are not much more than a few logs, some stones, and a roof put together in precarious arrangement. These buildings are more of a child's artproject or a nifty result of an extremely long game of JENGA rather than towers. The best part about these castles being so flimsy is that they become little death traps for the enemies, who wait inside. When a wall of one of these towers goes down, it often causes a domino-like effect that ends in crushed kings and toppled maidens.
Each castle has a unique layout and design and has a different number of people inside. Within the walls of these castles are Queens, Kings, Maidens, and Guards. When a wall, ceiling, or stone hits a person, they perish. In addition, if a person is knocked off the tower and falls to the ground then they will die. As a humorous addition, the game features sound effects when the enemy is killed in the form of a grunt, groan, or wail. If the player can kill all of the Queens, Maidens, Kings, and Guards in the allotted amount of shots, then they are deemed a "Royal Success" and move onto the next castle. If they fail, the game labels them a "Royal Failure" and they must either retry the level or quit.
Mobile Games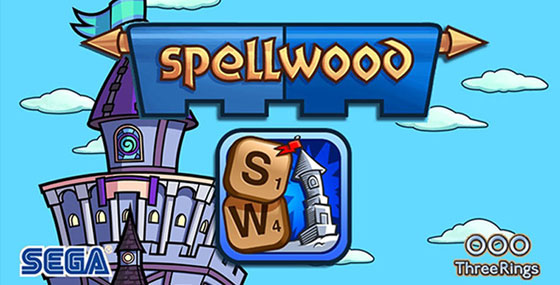 While Words With Friends seems to have the multiplayer tile-based word-puzzle genre tied up, the predominantly single-player tile-based word-spelling game market is still very much up for grabs. Spellwood may, on the surface, sound like any other word game where you use tiles to spell words for points, but you would be missing out on some incredibly addictive action if you were to swerve this game before trying it. This review looks at what makes this game so incredibly addictive and unique, with features like turn-based battling, equipment upgrades, and an adventure through a mystical castle in the game's fascinating story mode, you have virtually nothing to lose by reading on.
More Desktop Games
Below you can find more castle related games to play for fun online.