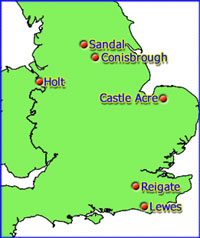 During the medieval period the de Warenne family was one of the foremost families in England, this can best be seen by looking at the remains of their castles. Although Conisbrough Castle is the best preserved and most unaltered of the de Warenne castles, some of the other sites offer a unique insight into the development of the castle during the medieval period.
Castle Acre Castle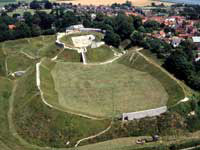 One of the principal residences of the de Warenne family in England. The castle today consists of little more than an earth-work with a few low walls and foundations. However, the site is worthy of a visit mainly due to its close proximity to the substantial remains of Castle Acre Priory at the opposite end of Castle Acre village. The Priory was originally funded by the de Warenne family.
Both monuments are in the care of English Heritage.
Reigate Castle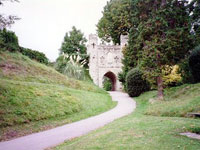 Reigate Castle was once the seat of the Earldom of Surrey and the reason why the town of Reigate exists. Sadly, only the earth-work of the medieval castle survives above ground, this is now a public flower park. However there is a man-made cave system within the mound known as "the Barons' Cave", further information is available from the Wealden Cave and Mine Society website, Click Here. Any stone-work visible above ground on the site dates to the eighteenth century.
The site is in the care of Reigate Council.
Lewes Castle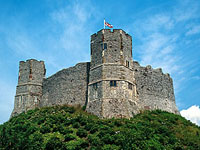 Lewes Castle is one of only two castles in the country to possess two mottes, the other being Lincoln. Lewes is said to have been the foremost residence of the de Warenne family throughout the medieval period. The remains of Lewes Castle today have been modified by later generations of owners but is still a most impressive site and worthy of a visit.
The Monument is in the care of Sussex Past.
Holt Castle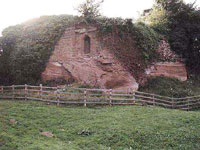 Holt Castle was the last of the de Warenne castles to be constructed (1282 - 1311) and was granted to John the seventh Earl Warenne by Edward I for the Earl's help in the wars with the Welsh. Little remains of the castle today, except for the quarry into which the castle is built.
Sandal Castle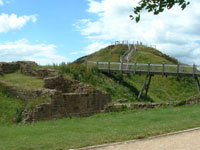 Sandal Castle is one of the more unusual castle sites in England having a barbican tower in the middle of the inner ward of the castle, and not on the outside of the castle gateway as was usual. The site can also boast one of the most intensive archaeological excavations to have ever taken place at an English castle; the dig lasted for ten seasons and added much to our understanding of the medieval castle. Although there is little in the way of standing stone-work at the site, recent grant-aided improvements, including a visitor centre and observation platform on top of the motte, make Sandal well worth a visit.
The Monument is in the care of Wakefield Council.