Ivanhoe was written by Sir Walter Scott in or around 1820 and is thought to be set and inspired by Conisbrough Castle. Sir Walter wrote Ivanhoe under a pseudonym as he did not want the book associated with other novels he had written and would further write. Sir Walter wanted the book to be judged on its merits not as a diversion from his usual writing. Here we take a look at the writer and his wonderful novel Ivanhoe.
Sir Walter Scott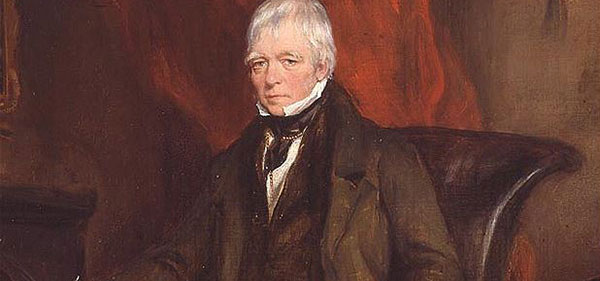 Sir Walter Scott was born in 1771 in Edinburgh and was the son of a lawyer and a doctor's daughter. He was a writer, a poet, a biographer and historian who is credited with the introduction of the historical novel. Sir Walter loved reading and poetry from the outset, while listening to tales of what was happening in Scotland plus the strife his country had suffered in the past gave him plenty of ideas for writing his much acclaimed and successful novels and poetry.
Sir Walter began his career as an apprentice lawyer, a job he had little enthusiasm for, as he read and studied languages along with poetry and other such pursuits. In 1797 Sir Walter married Charlotte Carpenter who was descended from a French loyalist family. The couple had four children and were married for twenty nine years until her death.
Sir Walter was a very successful writer of poetry and Scottish ballads with romantic poetry featuring heavily in his work. Scott owned a publishing company along with his brother and it was through bad management by his brother that the company fell on hard times. This meant that from the company's near demise Scott ploughed all his earnings from his writing into keeping the company afloat.
His novel Waverley that was set in the Jacobite rebellion was a huge success. This book preceded Ivanhoe, the most popular of his books, which he was to write next under a false name so that one would not be connected to the other. Further bad financial investments resulted in Scott and his compatriots losing all their money with Scott spending the rest of his writing life paying off the debts incurred. Sir Walter Scott died September 21st 1832 aged 61 years.
Ivanhoe
Ivanhoe is by far the most popular novel written by Sir Walter Scott. The book has been made into plays, dramas and movies many times with many famous stars starting out their acting careers by playing Ivanhoe. Roger Moore was probably the most successful of these by far with his portrayal in the popular TV series being one of the best.
Ivanhoe is set in 1194 in Saxon England during the reign of Richard the Lion Heart or Richard I. Richards's brother John had taken the throne for himself while the king was away fighting the third crusade. Scott's depiction of Saxon England is taken from many historical works that were popular at the time such as Robert Henry's The History of Great Britain.
The Story
Ivanhoe is the son of Cedric a Saxon nobleman and is in love with Rowena who is his father's ward. His father wishes Rowena to marry Athelstane of Conisbrough who is a descendant of Edward the Confessor causing a rift between the two men resulting in Cedric disowning Ivanhoe and Ivanhoe leaving to join the crusades.
The book begins with Ivanhoe fighting alongside Richard the Lion Heart in the crusades. Richard is captured and held hostage in Austria, while Ivanhoe returns to England to find John, Richard's brother, plotting to take the throne and become king. Ivanhoe takes on a disguise and travels to his father's home where he saves the life of Isaac the Jew by warning him of an impending ambush. Richard then returns to England in disguise and joins forces with Ivanhoe to defeat the treacherous John.
Later Ivanhoe is injured during a tournament and is cared for Isaac's daughter Rebecca. It becomes apparent that Rebecca is in love with Ivanhoe. Two of Ivanhoe's enemies Bois Guilbert and Baron Front de Boeuf along with Maurice De Bracy a mercenary abduct Rowena along with Cedric, Ivanhoe, Athelstane, Isaac and Rebecca while they are travelling together and take them to Front De Boeuf's castle.
Rebecca and Rowena fall victim to the two enemies but manage to ward off their unwanted advances, while the castle is attacked by Saxons and outlaws one of which is Robin of Loxley or Robin Hood as we all know him. Along with King Richard they liberate all the captives except Rebecca who is carried off by Bois Guilbert.
It is now up to our hero Ivanhoe to rescue the fair maiden which he does in true heraldic fashion. Bois Guilbert is killed as he falls from his horse just as all baddies should be in a great story of good against evil. Ivanhoe and his father are reconciled under the instruction of King Richard and Ivanhoe finally gets his lady Rowena, and they marry. Poor lovelorn Rebecca leaves with her father to travel to Spain where they hope to find a better life among people who are less prejudiced.
Reaction to the Novel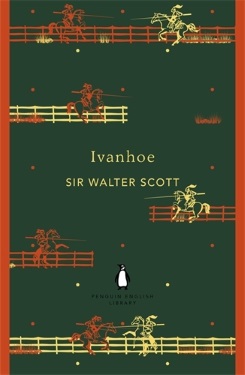 Ivanhoe received critical acclaim when it was released and was a huge success for Scott. Popular with critics and public alike the book sold at a surprising rate with ten thousand copies sold in the first two weeks following its release. Demand for the novel was such that printers were working all out to get more copies printed which put them under great pressure. The book was translated into many languages making it not only a huge success at home but abroad too. The birth of the historical novel had truly begun. Ivanhoe the novel can be purchased from Penguin Classics.
Ivanhoe Television Series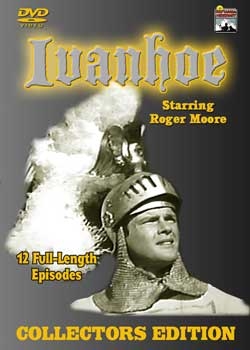 The most successful TV series based on the Ivanhoe book was made in 1958 and starred Roger Moore in fact it launched his career to certain degree. It ran for thirty nine episodes and was a very popular children's series. Famous names appearing in the series included very young actors at the time such as
Anyone interested in taking a look at the TV series can buy Ivanhoe from Nostalgia Merchant website.